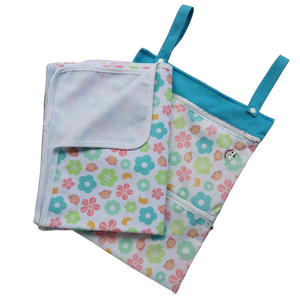 Play Mat Mooky Flower
Size : 138cm x 98cm 

It is made of soft and breathable PUL fabric and suede cloth, the same top quality materials as Moo Moo Kow® Cloth Diapers. 
$89 + free XL size reusable bag worth $23
Where To Use It? 

- As your personal hygienic changing surface 
- On the stroller, car seat or airplane seat to contain any leak - perfect for your almost potty-trained toddler outdoors 
- Anywhere else your growing baby may sit on - the garden, park, beach and more! 
- As a giant changing pad, massage mat, play mat, picnic blanket and more!!
What's Special? 

- Soft and breathable for baby's comfort 
- Trim design fits into most diaper bags - perfect for any occasions 
- PVC-free

How to Wash & Care? 

- machine wash or hand wash 
- wash on cold, warm or hot 
- No chlorine bleach and fabric softener. 
- Tumble dry low or line dry. Do not iron. 

Material : 

(Outer) : Water-resistant polyurethane Laminated (PUL) fabric
(Inner) : Suede cloth
---
We Also Recommend